TREE TOPS FARM: SHORT DESCRIPTION
Introduction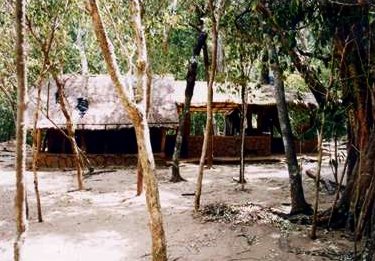 Tree Tops Farm offers a real jungle experience, living in harmony with nature. We believe in basic comforts and blend discretely with our beautiful surroundings, the virgin forest, the rocky hills, the native people and the wildlife.
Located in the wilderness close to Sri Lanka's largest protected area – the 1300 km2 Yala National Park – We live amidst the whole range of wild animals found in the neighboring Yala Park. The most prominent among our wild visitors are the elephants – at nights they can often be seen from our sitting area. Large herds are around in the area, always on the rampage for food and looking for water.
Tree Tops Farm is NOT a zoo. We can't guarantee that you see animals. Yes, the forest around us IS abundant in Wildlife – but first of all you should come to experience the atmosphere, to feel the soul of the jungle. What we can promise is protection and safe sleeping at Tree Tops Farm. We warn, and hopefully attract you, by the fact that elephants often visit the Farm at nights. In this case we will, if you are sleeping in a tent, wake you up as you may have to take refuge.
From this safe place you can observe the elephants. at which point, we feel free to disturb our guest's sleep for which you get a reward: nightlife in the jungle, the canopy of stars, the moon, watching wild elephants. Nothing less than a life time experience.
Our night watchers are perfect guards, being hunters these local men are very experienced 'jungle experts', highly skilled in using eyes and ears to interprete the signs of nature. We will share this knowledge with our guests and if you stay for some days, you will gradually learn to read the jungle signs.

Our Mission
The Farm was born in June 1997, with the intention of observing and trying to help protect the wildlife and environment, and is strictly for those hard-core nature lovers - especially for those elephant lovers.
Tree Tops Farm is situated in the middle of one of the main elephant tracks that they use when coming out of the jungle into civilization. This means we are an added obstacle for the elephants coming out of the jungle to feed on the villagers crops.
The farm is also trying to be hindrance to the loggers coming into the jungle to cut down precious trees.

Contact Information
Sri Lanka
Aku Esufali, Chief Coordinator, Tree Tops Farm.

Postal address

30/35Q De Silva Road, Kalubowila Dehiwala, Sri Lanka

Telephone; +(94) 1 763806

Fax; +(94) 1 589169

E - mail: aku@eureka.lk
Europe:
Lars B Sorenson, Director, Tree Tops Farm
Postal address

Christiansgade 17, 9000 Alborg, Denmark

Telephone ; +(45) 98 132337